Oddly enough, this wasn't the scariest thing I've ever done. As a matter of fact I was strangely calm about the whole experience.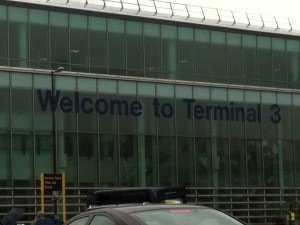 The truth is I love to fly and I haven't done as much of it in my live as I'd have liked and as I arrived at Manchester Airports Terminal 3 I was gripped with excitement. Parked and headed inside for a coffee before checkin and came across my first hurdle. Getting on both my back packs fully loaded and unaided.
Check in was an easy affair, I did want to opt out of the "naked body scanner" (millimeter wave scanner) but there is no option to do that in England and I really wanted to get on that flight 🙂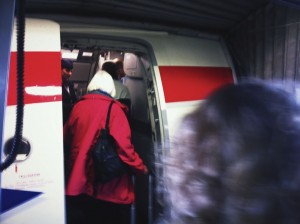 Waiting for my flight in Manchester was a bit of a none event. Looking back at it I realise that I was only getting my connecting Flight to London so it didn't bother me at all because I was still in England.
The seating wasn't too bad, at only 170cm it was positively spacious, lol. As the plane taxi'd to the runway I felt that feeling I'm sure everyone gets before take-off, apprehension, excitement and a good dose of adrenaline thrown in there for good luck. As those 4 Rolls Royce engines roared into life and thrust the plane forwards down the runway I had the biggest smile on my face knowing that I was on my way.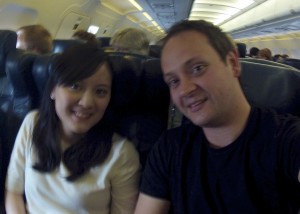 It wasn't a long flight down to London and I was feeling chatting (and probably a little nervous) and I got talking to the girl I was sat next to. Eunice was a Uni student travelling back to Hong Kong to see family for the holidays. We went our separate ways in London and my 6 hour wait for my connecting flight began.
The wait at Heathrow was tedious. A wander around the shops, eat, sleep (lightly), and repeat – at least twice! Eventually my flight was called and it was timed to board. Singapore here I come, then…
Australia