Well after a few more days of staying in Brisbane with my wonderful hostess Amanda, it was time to move on and visit my Aunty and Uncle who were staying in a sleepy little town called Cooroy.
First impressions endure and my first and last memory was arriving at Cooroy train "Station" which could only be described and a shed next to the main line. 'Where the hell have they brought me to?' I thought.
Greeted with a hug and a "this is it?" expression I was more than underwhelmed but all that was quickly dashed with the smiles and greetings of familiar faces.
The first few days were spent chilling out and getting to know my aunty and uncle as an adult, because the last time I was here was twenty years ago!
A few days pasted and we visited the "big smoke" which was Cooroy town (an IGA, a few banks and some *ahem* local shops for local people. All very league of gentleman-esk) and boy did it rain. Four days of rain, I was beginning to think that it was following me up the coast after the week of it I had in Sydney!
I didn't realise that Noosaheads (Noosa) was near by, I'd read about this place in my Lonely Planet travel book. Young vibrant town, affluent residence, and beaches that are
amazing…well it didn't disappoint and how could it, it was my first beach that I'd been to since coming here that I could relax and sunbathe and it was great! Just what the doctor ordered. An extortionate hot chocolate later and we headed back.
A week or so went by and I was planning my next move, but I was told that they'd be going back to stay with some people in Brisbane that I knew from when I was a kid. So, with my plans gladly on hold we made arrangements for me to stay in Cleveland.
Before then though, we met up with my uncles brother and his family, who had moved out to Australia some 4 years previous. We met them at a small amusement park called Aussie World (the Pleasure Beach would have nothing to worry about with this place) but I was more than happy with a few goes on the giant slide, log flume and a ride called 'Red Back' whilst my Aunty and a Uncle were preoccupied with their two nieces.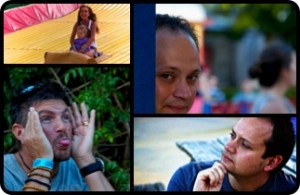 One of the last trips whilst I was there was probably my most anticipated outing, Australia Zoo. I've been wanting to go there for years and Steve Irwin was one person that I would've loved to have met. The zoo itself was very clean and extremely well run. The main show in the "Crocoseum" was spectacular and I was fortunate enough to see the rest of the Irwin family performing, all were in the main arena when the crocodiles where out! I remember thinking that Bindi (the daughter) reminded me a lot of her fathers TV personality and her genuine passion and enthusiasm for wildlife and conservation.
After a great day out, we made our way back to Brisbane.