So the first two weeks in Sydney have done something very strange, they've felt like I've been here months and I've gotten to know the place really well, but now that I'm sat in Brisbane I can't help but think that they've flown by.
The first few days were spent doing all the boring but important things:
getting my bank account sorted
Tax file number
mobile phone plan
data plan for my iPad (I did say MY important things, lol)
Oh and it's "da-ta" like the yanks not "day-ta" I just keep thinking, nice people with strange accents 🙂
I walked the city in any and all directions, hung around the hostel making idle chit chat to anyone who was about. People were mostly quiet but anyone you engaged in conversation had a story to tell. In the TV room on my first night I met a group who were already into the swing of the evening. One lad I only know as "Portsmouth" (very Zombieland I know) was celebrating his birthday and the Jack and Coke was flowing. There were two girls and a guy from Canada, and another lad from Watford. I was instantly known as "Blackpool" and Portsmouth began educating our great white northern brethren about our very own Las Vegas. Try as he might it didn't sound very appealing to them. One last strange coincidence of the evening was that one of the girls was celebrating her birthday the next day. To which I said I'd celebrated the day before on my flight, making it a 4th, 5th & 6th. Well, more drinks flowed. So after being completely jet lagged and slightly tipsy I called it a night.

View from the Sydney Harbour YHA @ The Rocks
So after a few days of getting used to my surroundings I became mates with a guy called Kristen we clicked which was nice. He was a Toyota mechanic from WA (Western Australia) he looked like a hippy but after speaking to him for a bit you could tell he was a petrol-head. He was only in his early/mid twenties but he was well travelled, which was just what I needed. After the first week it was great just having someone to get around with a see the sites with and actually have a conversation.
I went round the Vivid light/art exhibition, some great installations and of course my camera was never far away.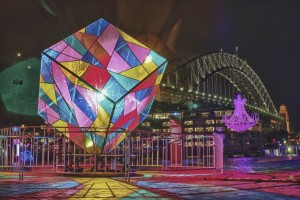 My first weekend in Oz felt like it took forever to arrive but what a weekend! It started by having a walk around the harbour with my friend, having a coffee, chatting and catching up as I hadn't seen her since January in a rainy Manchester.
Then it was off to Manly for what can only be described as "how the other half do a night out"…night out!
After meeting up with a sibling of a friend, Tom. It was on to a quick meal with drinks, then was met half way through by a female friend of his from Manchester no less. It was nice to hear another fellow Northerner. So after chatting for a bit and a few more drinks, first bar, Jack and Sambuca, met some of Toms work colleagues there. Next bar, more shots, another bar (I'm starting to sway now) more Jack Daniels, at this stage I had to get a few glasses of water, lol. Last bar (for me anyway) I made my excuses and left. Now to get home, I didn't mention that I had to get a ferry to Manly did I?
Well I'm seriously drunk and I had to get a ferry home. I'll let you imagine that portion of the night.